You are currently on milwaukeetool.com - the US English Milwaukee Tool website
If you would like to view one of our other sites, click "Select Other Site" below to choose a different country/region/language Milwaukee Tool website
Select Other Site
RADIUS™ LED 130w Temporary Site Light
Easy Setup. Instant Light. No Maintenance. Our RADIUS™ LED 130w Temporary Site Light provides you with 15,000 lumens of TRUEVIEW™ High Definition Output, increasing your lighting performance in large scale commercial construction. The temporary light is optimized to cover more floor space than a 400w Metal Halide while consuming 65% less power. The temp lighting requires no assembly and arrives ready for out-of-the-box operation with a 4ft 120v plug. It is also compatible to be wired with Romex or MC cable by using a built-in and reusable strain relief. This allows you or your contractor to quickly configure the LED temp lighting based on the needs of the job site without additional components. When installed with Romex or MC, the job site lighting is capable of being used on temporary power systems from 120v-277v. The LED light installs faster than competitive products by having an integrated hanging cable with a quick feed retention mechanism to speed up your installation time and reduce installation material. After the light is installed, a theft-deterrent lock hasp allows you to secure the portable job site light with a standard padlock (not included). The light is protected with a high impact polycarbonate lens protecting the light source while you use or transport it, increasing the longevity of your temporary construction lights in demanding environments. The RADIUS™ LED 130w Temporary Site Light covers more area with fewer lights, reduces power consumption, and is protected by our MILWAUKEE® 5-Year Tool and Limited Lifetime LED warranty.

LED 130W TEMPORARY SITE LIGHT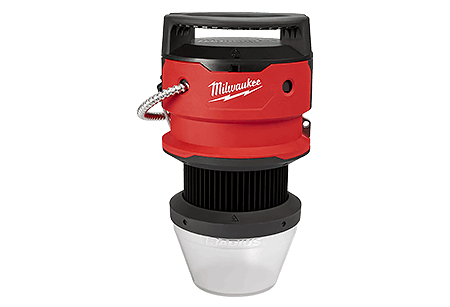 Easy Setup. Instant Light.
No Maintenance.
ADAPTS
Integrated Wiring Terminal Wire up once. Accepts 120-277V.
Wire Strain Relief Accepts 14/2 Romex to 10/2 MC
Quick Feed Cable Retention Faster Installation and Removal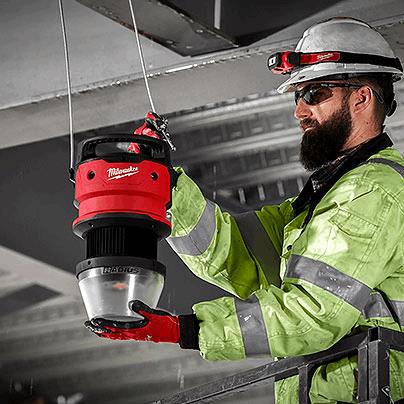 PERFORMS
15,000 Lumens of TRUEVIEW™ High Definition Output
Exceeds Floor Coverage of 400W Metal Halide
Reduces Energy by 65% vs. 400W Metal Halide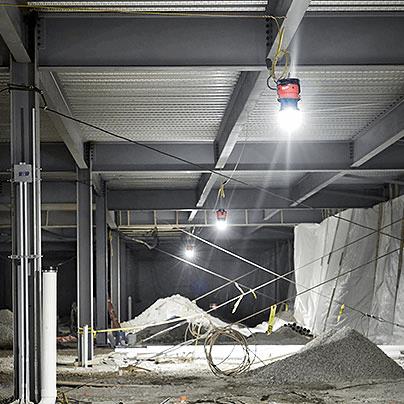 SURVIVES
Impact Resistant
No On-Site Maintenance
Theft Deterrent Lock Hasp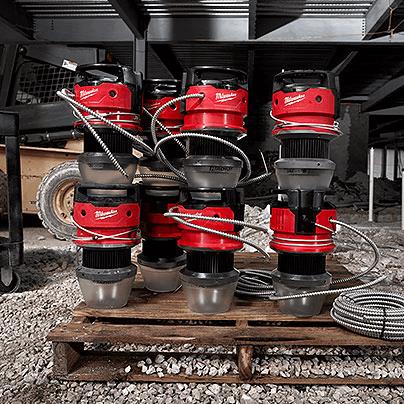 15,000 Lumens of TRUEVIEW™ High Definition Output
Integrated Wiring Terminal For Easy Installation: Accepts 120v-277v.
Survives The Job. No On-Site Maintenance.
Wire Strain Relief Accepts 14/2 Romex to 10/2 MC
Quick Feed Cable Retention allows for Faster Installation & Removal
Exceeds Floor Coverage of 400W Metal Halide
Reduces Energy by 65% vs. 400W Metal Halide
High Impact Polycarbonate Lens
Theft Deterrent Lock Hasp (Lock not Included)
Stackable Design for Easy Storage & Transport
Replaceable Lens