---
Choose additional country / region / language Milwaukee Tool websites
Select Other Site
SAWZALL® TORCH™ Carbide Blades
The TORCH™ with Carbide Teeth has been engineered to deliver extreme life and unmatched versatility in thick & extreme metal cutting applications. This blade delivers up to 50X life over standard blades. The TORCH™ with Carbide Teeth tackles a wide variety of metal materials ranging from black pipe and angle iron to cast iron, stainless steel, & high strength alloys. Having 25% more carbide per tooth than other carbide blades and a optimized tooth design deliver extreme life in metal cutting applications.
                       The TORCH™                      with Carbide Teeth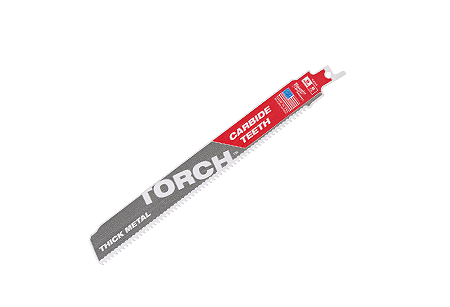 Longer Life in            thick Metals
Cut Longer
THE TORCH™ with Carbide Teeth delivers 50X life over standard bi-metal blades in EXTREME metal applications.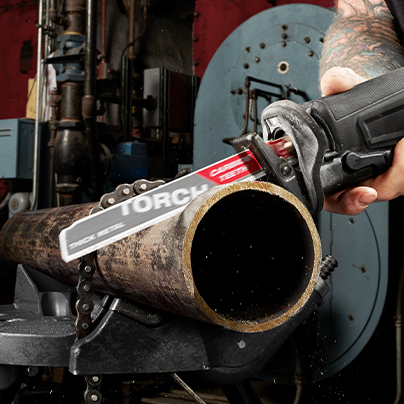 Cut More
THE TORCH™ with Carbide Teeth can cut through these materials and more:
Black Pipe
Angle Iron
Stainless Steel
High Strength Alloys
Rebar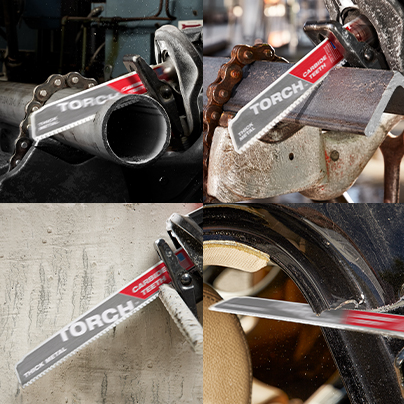 Cut Faster
Ground up redesign for an aggressive 8TPI tooth geometry with larger gullets than the competition.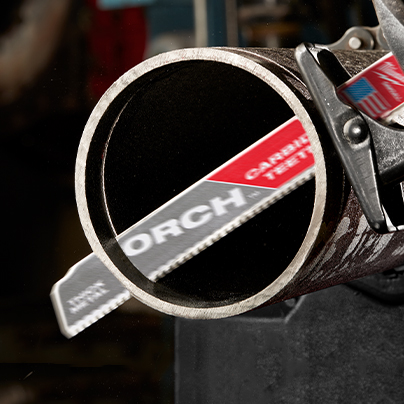 Carbide teeth for 50X life over bi-metal recip blades
Cuts black pipe, angle iron, rebar, stainless steel, and more
8 TPI for fast, smooth cuts in thick and extreme metals
Carbide teeth for longer life, greater material versatility, and faster cuts
1in tall blade for better durability
1/2" universal tang
Large tooth gullets for easy material ejection
Available in 1, 3 and 5PKs; 9" 25PKs
Made in USA